Do you want to make your site run insanely fast? It doesn't matter how good your content is if your website takes time to load. It gradually has an immense effect on website visitors. The point is your website needs to be able to grow with your growing business. 
If you are very serious about growing your business,dedicated hosting gives you high power and control over a server that is exclusively yours and yours alone.
Dedicated hosting is the most powerful web hosting type. It is apt for high-traffic websites/web apps.
MilesWeb is one of the best-dedicated hosting service providers out there. It is economical and still gives you tons of unmatched features for your website.
They offer the best-dedicated features that are the best the users can afford for their price.  
So, let's take an ultimate review of what they offer by analyzing the benefits of using a dedicated server.
Why MilesWeb's Dedicated Server Hosting?
MilesWeb is an Indian web hostingserviceprovider started in the year 2012. They are currently servingmore than 30,000+ customers around the world. MilesWeb'soffers different web hosting services including shared hosting, reseller hosting, WordPress hosting, cloud hosting and
dedicated server India
hosting. MilesWeb's dedicated hosting is super-powerful and perfect for resource-heavy websites & apps. They provide BareMetal dedicated servers that deliver a high level of performance, security, control and more.
The datacenter locations of the bare metal server is in Mumbai, India. MilesWeb's dedicated server infrastructure meets the exact requirements of clients and provides the highest level of security, efficiency and accessibility.
Pricing & Plans: Is It Worth?
MilesWeb offers the most competitively priced plans on the dedicated server in the market. The company's server runs on solid hardware. Also, MilesWeb's dedicated hosting plans combine excellent features, the best price and stellar customer support. They have plenty of options for dedicated hosting. Their base plan starts at Rs.6, 999/mo, while the high-tiered plan that offers you 40 cores costs Rs.46,999/mo. The resources you get with the plan E5-2609 2.4GHz are, 8GB memory, 1TB SAS, 1TB bandwidth and 1 dedicated IP.
Take a glimpse of the dedicated server hosting plans in the below image: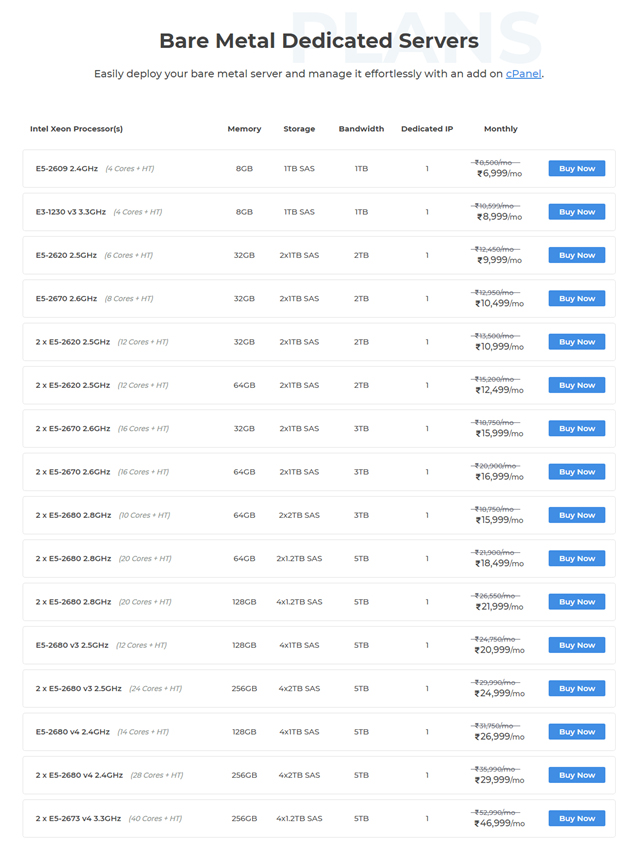 The resources of bare metal dedicated servers range from:
Intel Xeon Processors ranges from (4 Cores+HT) to (40 Cores+HT)
Memory ranges from 8GB to 256GB
Storage ranges from 1TB SAS to 4*1.2TB SAS
Bandwidth ranges from 1TB to 5TB.
As you can see, MilesWeb offers high-end resources to run your heavy web application at cost-effective prices.
Top Reasons to Use MilesWeb's Dedicated Hosting
You might be thinking, why should you go for dedicated servers from MilesWeb instead of other web hosts out there in the market? Here are some of the biggest reasons for considering MilesWeb's dedicated server hosting.
Host Unlimited Websites
There are few hosts out there who provide the feature of unlimited website hosting. With MilesWeb's dedicated server hosting, you don't have any limitations on hosting websites. The best aspect is, you can move all your websites from shared hosting, reseller hosting and dedicated hosting to a
VPS hosting in India
.
Solid Performance Guaranteed 
In dedicated serverhosting, you have server resources exclusively for yourself.
So, no other website's traffic will be affected and, you will get excellent website performance.
100% Reliable 
As the server resources aren't shared with any other tenant thus your Bare Metal server is significantly reliable for your high-level web applications.
 SSH Root Access 
With every Linux dedicated server, MilesWeb provides root access.
The root access allows for the topmost degree of control over your server software.
They offer full control and freedom to install web applications on the server without any difficulty.
 High Security 
Security is an important concern when you opt for any hosting service.
For sure, I must say,MilesWeb takes utmost care to keep your sites safe and secured. With dedicated hosting,you get an isolated environment thatdelivers a high level of security and privacy.
It reduces any risk from threats as your server is isolated from others.
 Customization
MilesWeb's dedicated server hosting lets you manage custom applications on your server with a custom environment.
With their dedicated hosting, it isassured that even heavy web applications will run smoothly without any glitches.
With the managed dedicated server MilesWeb offers the following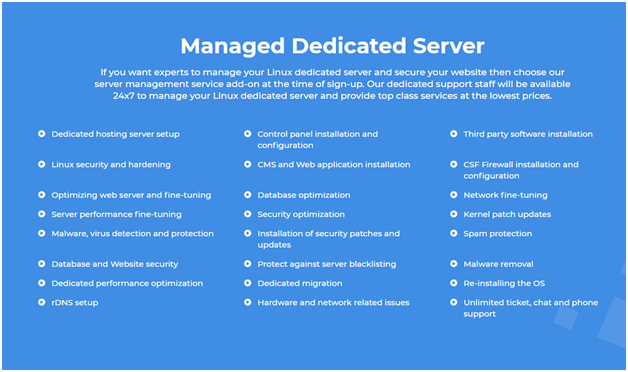 Some Key Features included in MilesWeb Dedicated Server Hosting!
Here are the key features included in MilesWeb dedicated server.
 Hardware RAID
The Bare Metal servers of MilesWeb support RAID0, RAID1, RAID5 and RAID10.
You can buy the Hardware RAID if required at an extra cost.
MilesWeb has a robust network. MilesWeb's data center is connected with Multiple
Internet Exchanges like NIXI, DE-CIX, Extreme-IX, Extreme-IX –            Bandwidth from
industry-leading service providers.
For your bare-metal server, MilesWeb provides 100 Mb/s to 1GBPS bandwidth.
When it comes to run your sites at peak performance, MilesWeb provides a network          uptime guarantee of 99.99%. They will ensure that your site is up and proudly running
onthe web without undue hassle and give visitors a happy surfing time.
Every bare metal dedicated server is comes with one IPV4 and IPV6 address. You           can purchase more IPs at additional cost if required.
Do I recommend MilesWeb? 
If you're looking for an affordable but highly reliable dedicated server hosting option, then MilesWeb is an excellent option for you.
MilesWeb offers 99.99% uptime SLA, full server control and fine features to keep your heavy website or app running. Thus, they are the best-dedicated server hosting providers in the market you can count on for your hosting requirements!